Enesco Disney Traditions Statue Little Mermaid Ariel Ursula Jim Shore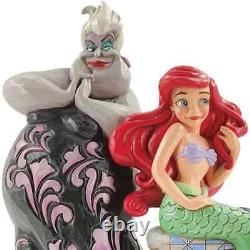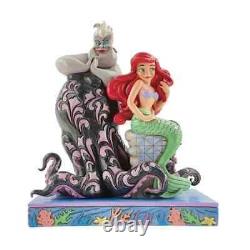 Disney Traditions The Little Mermaid Ariel and Ursula Statue. Colorful and collectible, this extraordinary Disney Traditions The Little Mermaid Ariel and Ursula by Jim Shore Statue measures about 9 1/2-inches tall x 8-inches wide x 4 3/4-inches long. In artist Jim Shores inimitable style, it features villainous sea witch Ursula alongside mermaid Ariel in a scene of good and evil. Smiling innocently, Ariel sits on a stump as the Ursula connives cruelly behind her shoulder.
This is a marvelous piece no The Little Mermaid admirer wants to miss! Jim Shore is a treasured artist and something of a legend, inspiring his friends and expansive base of followers with work reminiscent of family, tradition, spirituality, and love of country.
Shore's signature look of handmade, hand-carved art evokes appreciation and nostalgia, while embracing inspired themes of folklore and tradition found within American and European folk art. As a quilting aficionado, he often combines traditional quilt patterns with one of his favorite types of folk art, rosemaling, into his designs.
Jim Shore's creations make much-appreciated gifts for almost anyone!